SWADESHI and SATYAGRAHA: Philosophies of the Indian Independence Struggle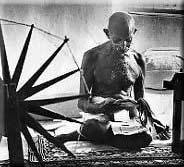 The spinning wheel became the symbol of the swadeshi movement
Copyright www.mahatma.com


Swadeshi was a call for only Indian products to be bought and sold in India. Gandhi encouraged small village businesses and asked the people to stop buying anything made with British machines or in British factories. Instead, everyone began make their own goods, including spinning their own cloth! The Indian people were urged to become self-reliant, using what could be found locally and gaining the skill to support themselves. By practicing Swadeshi, Indians weakened the British industry and learned how to be economically independent.


Satyagraha comes from the Hindi words for "truth" and "holding firmly". It became the foundation of the Indian independence movement. Gandhi planned a non-violent resistance strategy to unjust laws. Freedom fighters would knowingly and openly break unfair laws and accept any punishment given to them-- just so that they could draw attention to the injustice of the British rule and reveal the truth. Indians also held non-violent marches and protests. Soon, Gandhi expanded satyagraha to include peaceful protest or boycott that limited British operations so much that England had to give in to protect its own interests.
To learn more about satyagraha in Gandhi's own words, click here.